Anxiety and Depression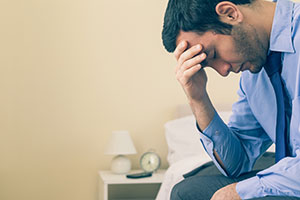 Anxiety and depression are two common reasons people seek individual therapy.
Anxiety
Anxiety-related disorders currently account for the majority of mental health issues in our country, affecting approximately 40 million Americans. People struggling with anxiety may have developed problems because of biological predisposition coupled with stress in their environment.
Symptoms may occur in response to any situation in which the natural "fight or flight" inclination is evoked. An anxiety-affected person may feel extreme tension, confusion, frustration, restlessness, difficulty concentrating, worry, and more. On a physical level, the heart may race, and breathing difficulty, nausea, and sweating may occur. Untreated anxiety can lead to chronic issues such as digestive problems, insomnia, and headaches as well as a marked decrease in the quality of life.
Counseling Associates provides empathic treatment for anxiety. We understand that this problem may manifest in a number of different ways. Research has shown that therapy is highly effective in reducing or eliminating anxiety, allowing treated individuals to engage in life more confidently. By working with a member of our counseling team, you can address concerns such as the following:
Generalized anxiety
Panic attacks
Social anxiety
Phobias
Separation anxiety
And more . . .
Depression
Depression can occur for a number of reasons and it may last only a short time for some people. For others, depression, a state of sadness or disconnect, can linger for weeks, months, or even years. These feelings may lead to lethargy, a lack of motivation to participate in activities or socialize, and even thoughts of suicide.

Obtaining help for depression is extremely important. If feelings of sadness or general malaise persist for more than a few weeks, a visit to a compassionate therapist can return you to a state of contentment.

Depression can impede your relationships, productivity, and various other aspects of life. Depressed individuals may find it difficult to cope with everyday stressors in a healthy manner, sometimes to the point of wanting to stay in bed all day.

Fortunately, depression can be successfully treated with individual therapy. Our therapists have extensive expertise in treating a number of conditions. We can determine the best approach to treating depression by investigating the possible causes and addressing emotional issues. Through working with our counselors, our clients are able to recognize and access strengths they did not know they had, providing them with the encouragement to initiate positive changes.

We understand that anxiety and depression affect many people, so we offer gentle understanding as we teach you proven techniques to address your concerns.

Call Counseling Associates at (248) 626-1500.