Child and Adolescent Therapy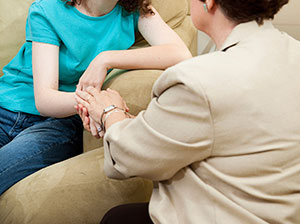 Parenting is one of the most challenging experiences we can face in life. Every child is different, and he or she will develop individually with many transformations occurring before adulthood. These changes can leave parents constantly worried about how their child is handling the various issues he or she faces. In today's rapidly changing society, it can be difficult for parents to know exactly how to address questions and problems their child may have. The obstacles of growing up can be navigated more easily with the help of an experienced, compassionate therapist. The clinicians at Counseling Associates can help your family grow stronger through the therapeutic process.
The adolescent mind and body
Adolescence marks the time in life where hormones set off a variety of physical changes. Although there are various "rites of passage" we all go through, big emotional changes flare up in the teenage years. During this intense time, depression and anxiety can become very challenging. Thankfully, therapeutic work with a skilled counselor helps struggling teens cope. Your Counseling Associates therapist has an in-depth understanding of the developing teenage brain, and can help you and your teen make better sense of this time in life.
Therapy for a child
A crucial area in therapeutic counseling pertains to children. Therapy services with a compassionate, experienced clinician can have a positive effect on childhood experience, and can help the child through the process of growing up. Childhood counseling addresses the specific needs of a child with an innate understanding of child psychology. Through effective counseling, a child is provided real-world solutions to the various challenges that he or she is facing or may face in the future.

Therapy for a child considers the mental, physical, and behavioral development of the patient. Through therapeutic sessions, a counselor can gain valuable insight into the issues the child is facing, which may be feelings of depression or anxiety, difficulty engaging with peers, or challenges related to school and schoolwork. Licensed, certified child counselors are familiar with a variety of therapeutic techniques and they have the extensive skill to empower the child to progress developmentally.

Please call us at (248) 626-1500 for more information about our services.