Gay, Lesbian and Transgender Counseling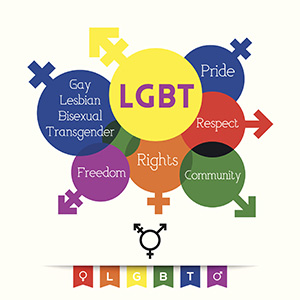 In our society, there are a myriad of different people, cultures, and lifestyles. However, many people who identify in the category of LGBT, or lesbian, gay, bisexual, or transgender, may struggle with the stigma of their orientation. Those who are sure of a non-conforming gender or sexual identity, or who are questioning their sexual or gender identification can address specific issues working with a therapist who has specific professional experience. At Counseling Associates, you can address psychological and emotional concerns in a non-judgmental environment, with professionals who are familiar with LGBT issues.
Issues the LGBT individual may face
Despite the fact that there is increasing cultural acceptance of the greater diversity in sexual orientation in our society, the fact remains that there are those who may experience real or perceived discrimination, oppression, or marginalization. Coping with issues such as a sense of self and coming out to friends, family members, and colleagues can lead to the risk of anxiety, depression, substance abuse, and other concerns.

We have learned through research that self-harm and risks of suicidal intentions are increased in youth who question their sexuality or identify as LGBT, particularly if their identification as such leads to discrimination. A 2007 survey of lesbian, gay, and bisexual students showed that bullying experiences were significantly higher, and that suicidal thoughts were twice as likely as it was for their heterosexual peers in the previous year.

There are several forms of discrimination the LGBT student may face, including physical or verbal bullying, social rejection, even sexual assault. Discrimination is not limited to LGBT youths. Adults, as well, may have unpleasant experiences in regards to employment, housing, education, and basic human rights. The chronic stress that comes from ongoing discrimination, both real and perceived, can have a detrimental effect on mental health.

If you or someone you love experience confusion or anxiety regarding sexual orientation, we can help. If you are anxious about coming out, or cannot decide how to do so, therapy with an experienced clinician can provide guidance. Our therapists are skilled in helping individuals and couples address problems by providing positive solutions. Contact Counseling Associates to arrange a private consultation.