Employee Assistance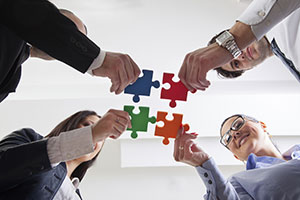 Why an Employee Assistance Program?
Employees are a company's most valuable resource. However, personal and emotional problems can and do effect an employee's ability to perform on a job. These problems affect work performance, morale and ultimately, a company's productivity and profitability. Personal problems can lead to excessive employee absenteeism, lack of productivity and turnover, as well as an increase in accidents and worker compensation claims. This is costly to both the worker and to the employer. An Employee Assistance Program offers a comprehensive means of helping companies and their employees effectively deal with problems. These problems, whether related to alcoholism, drug dependency, marital, family or their personal problems can and are being successfully treated through counseling.
Benefits – The Bottom Line to Increased Productivity
In a survey of 100 major corporations conducted by The National Business Group on Health, the majority of these companies reported that a direct benefit of their EAP programs was increased employee productivity. Example: General Motors recovered an estimated $3,700 a year per employee in terms of productivity increased and work time regained after the company's implemented its employee assistance programs.
Reduced Absenteeism
Experts estimate personal problems underlie 60 percent of all absenteeism. The survey cited above also showed a dramatic reduction in absenteeism for employees who had participated in EAPs.
Fewer Injuries and Accidents
An industry study reports that personal problems may be behind as many as 80% of industrial accidents. Workers' Compensation claims would be significantly reduced if the accident and injury rate were decreased.
Reduced Medical Care Utilization
Studies throughout the United States and Europe have found that calls for hospital, surgical, and other medical benefits are reduced as much as 20% if EAPs are offered to employees. One massive landmark study found that those who received mental health treatment used other medical services only 1/3 as much as the rest of the population-- and that was five years after treatment. A small California company reported a 35% reduction in other health care costs for patients receiving mental health care. Thus, premiums for your health insurance may be decreased.
Counseling Associates, Inc. - A Comprehensive Program
We have developed a comprehensive program to aid employers and their employees to receive the most appropriate and effective help. Counseling Associates Employee Assistance Program offers:
To work with employers and unions to develop a coordinated program that focuses on the special needs of individual companies and employers, for assessment, referral, and treatment of their troubled employees.
To train management, union, and supervisory personnel to recognize the troubled employee and to make the appropriate referral.
To provide a central diagnostic service to assess and refer the troubled employee for help for personal problems including stress, alcoholism, drug dependency, marital, family, or other emotional problems which interfere with work performance.
Quality Services
The Counseling Associates Employee Assistance Program is coordinated with the treatment staff of Counseling Associates to provide quality service. Our treatment staff consists of over 30 professionals. We provide specialists with a range of services from alcohol and drug abuse, individual, marital, family and group psychotherapy with adults, adolescents, and children. We also provide pre-employment psychological testing and evaluations for employee promotion. The staff consists of psychiatrists, clinical psychologists, clinical social workers, certified marriage and registered alcoholism counselors. Counseling Associates offers its services in a highly professional, ethical, and confidential manner. We are accredited by the Commission on Accreditation of Rehabilitation Facilities (C.A.R.F.) as a mental health and substance abuse clinic, and are licensed by the State of Michigan, Department of Public Health, to provide Substance Abuse Services.
Some of our current and past EAP clients include the following:
Berkley Public School System
Birmingham Public School System
Clarkston Public School System
City of Livonia
City of Royal Oak
Danboise Mechanical
Ferndale Public Schools
Green Oak Charter Township Fire Department
Madison Heights Public Schools
Royal Oak Public Schools
Township of West Bloomfield
West Bloomfield Public Schools
Waterford Public Schools