Individual Therapy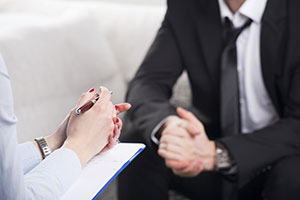 Individual therapy or counseling is a process in which the client and therapist collaborate to facilitate positive changes that improve the quality of life. Through individual therapy, it is possible to address barriers that get in the way of mental and emotional well-being as well as interpersonal relationships. One-on-one counseling can help an individual increase his or her understanding of life events and foster a greater level of peace, courage, love, and self-esteem. Many of our clients choose to continue ongoing therapy as a bridge to self-growth.
A number of mental health concerns can be addressed in individual therapy sessions. These include, but are not limited to, ADHD, depression, stress management, professional success, and anxiety. The issues that affect your mental well-being are within our realm of expertise. We work with individuals to improve marriage relationships as well.
When to seek individual therapy
Life issues and mental health conditions can potentially cause such distress that it becomes difficult to continue normal activities. When the mind is constantly attempting to solve inner turmoil, your mood, personal relationships, and even physical health can suffer. Symptoms of distress may develop in the form of physical sensations, or problematic behaviors, feelings, or beliefs.

Our view is that individual therapy can prevent unpleasant and unhealthy thoughts and actions. By working with a compassionate, experienced therapist who offers a listening ear, it is possible to identify the emotional and psychological stressors that are affecting well-being. Our team provides compassion and understanding to help our clients learn techniques and strategies that facilitate change in unwanted emotions, thoughts, and behaviors. Through therapy, our clients gain the ability to face challenges and manage stress.
Individual therapy beneficial for long-term health and well-being
Research has shown that individual therapy can successfully achieve positive changes with fewer relapses of conditions such as anxiety and depression. Many people who seek individual therapy continue to report an improved quality of life after they have completed therapy sessions with their trusted practitioner. This method of treating common conditions often produces better results than medication alone and it has been extensively analyzed for efficiency in producing positive change.

Counseling Associates offers extensive services for individuals, couples, and families. Contact our practice in West Bloomfield to schedule your visit.