Signs that you may need marriage counseling, and how a therapist in our Michigan practice can help you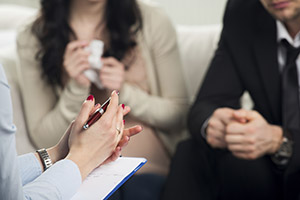 The relationships that you have with your spouse and family are among the most profound you will have in your lifetime. However, time and stressors can affect the relationships that you cherish the most. The friendship and intimacy that you have with your spouse may diminish over time, leaving you questioning whether you have selected the right person to walk with you through life.
It is rare that a relationship is not rocked by some type of problem. When you experience a health concern, you will most likely consult with your family physician. If your relationship becomes ill in some way, a consultation with a family therapist can be extremely beneficial. The issue many people have is knowing when to seek help.
Signs that you may need marriage counseling
The goal of therapy at Counseling Associates in West Bloomfield, Michigan is to help families keep their relationships healthy. More than just saving a marriage, effective counseling can improve your relationship with your spouse, adding more joy to your life together. Consider seeing a therapist if you struggle with:
Communication. Significant frustration can occur from everyday habits such as sarcasm, avoidance, criticism, and yelling. Learning how to communicate with your spouse builds a strong foundation for your marriage.


Ongoing conflict. Many couples have conflicting opinions or beliefs that can erode their friendship. It is important to identify conflict and establish healthy patterns for resolution.


Family issues. Couples often become divided when raising children. This is especially prominent when a developmental or behavioral issue exists. Instead of arguing, couples can learn communication skills that facilitate healthy compromise.


Life transitions. The death of a loved-one, birth of a child, move to a new city, and loss of a job are all transitions that can put stress on a marriage. Such events may cause anxiety or depression that affects the relationship.


Substance abuse. In today's society, many people self-medicate with alcohol or drugs. Reliance on substances can create tension and resentment in a marriage. Couples can learn to turn to each other rather than alcohol or drugs.


Mental health. Many people suffer from anxiety and depression. Therapy has been proven highly effective for individuals and couples who struggle with such disorders. Although an individual may be affected, marriage counseling can facilitate understanding and empathy on the part of the other spouse.
You can have a healthy, thriving marriage. Schedule a consultation at Counseling Associates at (248) 626-1500.